As I surf the web and pin things on pinterest, I mentally create a "bucket-list" of things I would like to create from the "Party-land-world". There are so many things out there that are beautiful and so HOT right now. Here is my ultimate bucket-list of things I have tried and would like to try in the near future.
(PLEASE NOTE: All photos on this post were found on the internet)
1. Balloon Garland – I am seeing the simple latex balloon reinvented everywhere to be more lavish and grand. The simple latex balloon used to be a childish party decoration but now it's turned into a beautiful display and centerpiece. You can make your own DIY garland by ordering lots of  12″ Latex White Balloons on amazon.
2. Donut wall – Donuts have been the new craze like the cupcake was. It's like people are in the search for the best donut out there and we must try it all. The more extraordinary the toppings the better. So now I see it being displayed everywhere at parties from donut cakes to now a whole wall full of donuts. You can find DIY tutorials on line but basically you will need a Pegboard and dowels.
3. Giant Latex balloons adorn with tassels – This was the new craze a couple of years ago. I first saw them when I was planning my Son's first birthday party and really wanted to have it. They used to be like $200 a pop for each balloon. It was insane! Now you can make it yourself and buy the Giant 36″ balloons online.  They even sell already prepared kits at Michael's and even at the dollar section at Target.
4. Tassel Garland – This has been done so many times but it's still beautiful and fun to make. Not only can you garnish your giant balloons but you can also decorate your party with these hanging tassel garlands. I will be creating a tutorial of my simple way of making a tassel garland soon.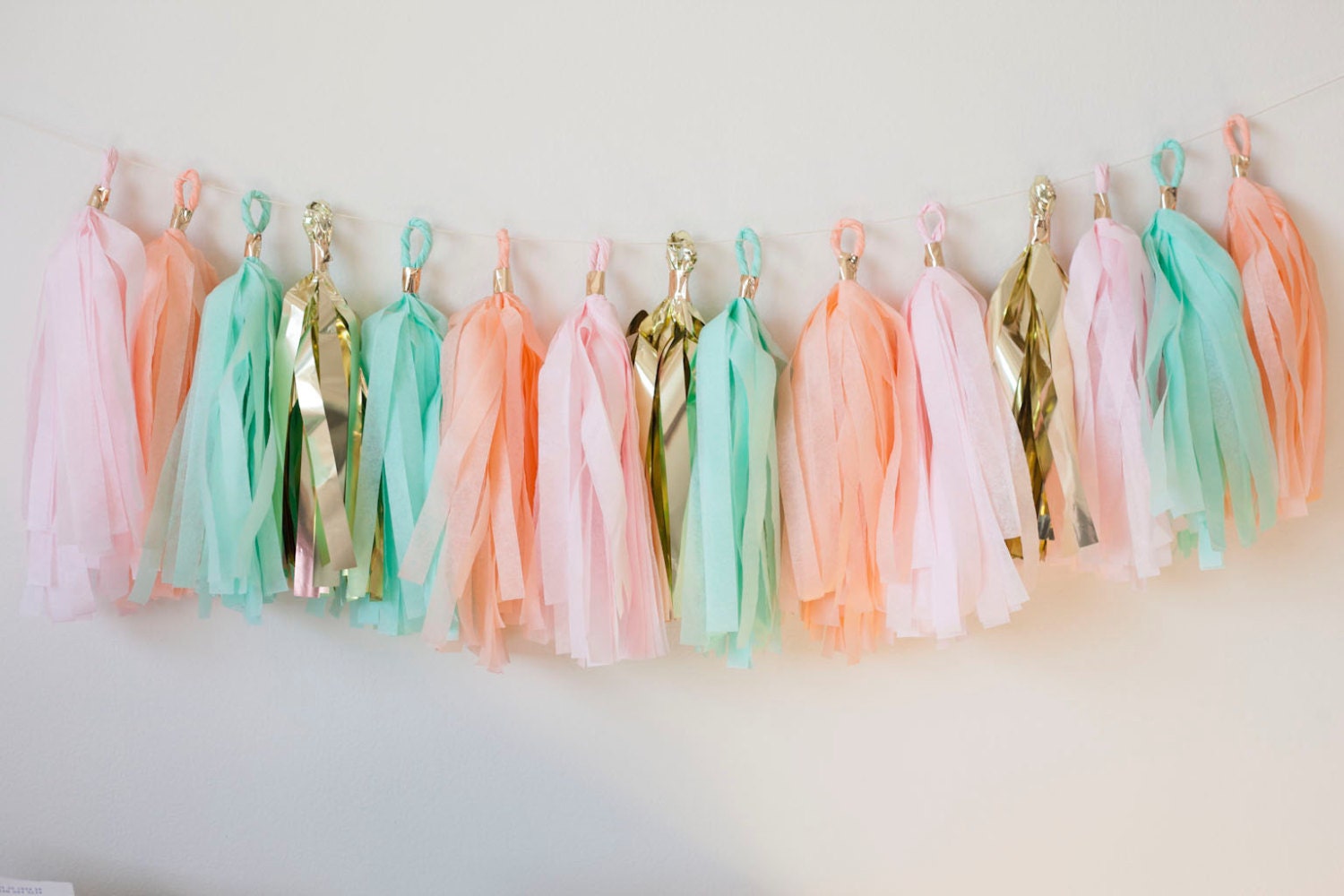 5. Paper Flower Wall – OMG I thought this was the most beautiful thing ever, when I first saw it. I wanted to make one for my son's 1st birthday party even though he's a boy. I just think if you make it all white, it will be a gorgeous textured wall backdrop. Now these walls are made all over the place. People sell hand made giant flowers online and they even offer paper flower kits at michaels as well. Definitely not a new thing anymore, but it's still so pretty.
6. Greenery Wall backdrop (hedge backdrop) – I see these living walls everywhere now. Even at Souplantation. Is it played out? No, I don't think so. It's so beautiful and gives a refreshing pop of green to your party. This wall can make your party simple and clean or it can be adorn with branches and flowers to create a chic rustic look. Either way it will add a huge wow factor to your party.
Photo from: Vantastic Wedding blog
7. Naked Cake – Some think this cake looks unfinished but I think it's stunning and just gorgeous if made right. It's beautiful and romantic all in one cake. I swear this is the HOT new cake style stearing clear of the 'fully dressed' fondant and frosted cakes. Plus who wants to eat all that frosting anyways right? Just kidding.
8. Mylar number and word balloons – Just like the latex balloons, mylar numbers and letter balloons are making a comeback to all the hot parties. They are great to replace banners and great to take photos with. Everyone loves a good Photo op.
9. cake pops – Cakes pops have been around for so long now. It's not a new thing but they are definitely something pretty, fun and tasty for your guests to enjoy. Great for favors as well.
10. Metallic Gold wooden name sign – These are just so beautiful at any event. I love it when these are displayed on a greenery wall like this one. This has pretty much replaced the old block letter names we used to see.
11. Customized Etched Cake topper – All the cakes these days have been adorn with a beautiful cake topper. The personalized etched ones are definitely a show stopper.
12. Watercolor – I have been seeing watercolor themes and looks everywhere lately. I even incorporated it into our logo at the moment. Not only have I been seeing it on graphics, but I also see it being made on cakes as well. The watercolor texture adds a colorful modern pop to the plain solid color graphics and cakes.
Sheesh the list can go on and on. I'll keep you posted for other new things I find. Please write in the comments below if there is anything that I missed and should add to my bucket-list of the "party-land-world".